Tiger Facts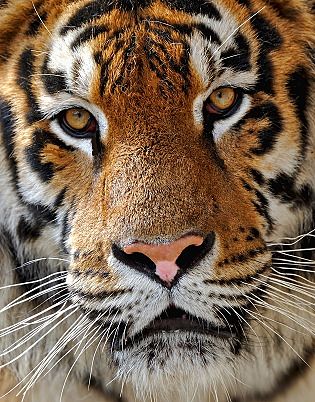 The largest of the big cats, the Siberian or Amur tiger lives in the coniferous forests of Russia where its thick fur and full neck ruff keep it warm in deep snow. In contrast, the much smaller Sumatran tiger lives in thick tropical jungles and regularly bathes in ponds or streams to keep cool. The Bengal tiger is the most common of the sub-species, and generally has the richest orange color.
The tiger is a stalk and ambush style hunter, and it's familiar stripes provide camoflouge as it waits for prey as large as 1000 pound water buffalo.
The tiger is basically a solitary animal with a large territory, but conflict and agression between individuals is rare, and amazingly, wild tigers have been known to share their kill with other individuals, not always family members, who may happen upon them feeding. This fascinating behavior, so different from the highly food-agressive African lion, has been well documented. The tiger is responsible for more human deaths then any other cat, hence the common term "man-eating tiger".
-AnimalStats- Tiger Facts
Male
Female
Young
Plural
Social Unit
Home
tiger
tigress
cub
tigers
individual
Asia
Habitat
FavoriteFood
Enemies
Color
JuvenileColor

GenderDifference
jungle
pig, deer
none
orange/black
nose is lighter
none
Top Speed
Avg.Height
Avg.Length
Tail Length
Avg.Weight
Record Weight
36 mph
42-50 inches
M-9ft. F-8ft.
3-3.5ft
M-550 F-400
1012 lbs.
Estrus Cycle
Gestation
# of Young
Birth Weight
Birth Height
At Birth
poly 1-3 x yr.
100-110 days.
3 - 5
2-3 lbs
6 in.
blind,fine hair
Eyes Open
Walk
Raised By
Weaned
Independent
Maturity
1-2 weeks
3 weeks
mother
6 months
2 years
4-5 years
Lifespan
Endangered?
Pop. in Wild
Pets in U.S.
16-20 years
yes
4,000 apx.
12,000 apx.
Tiger Facts and Tiger Information Featuring the
-
AnimalStats
-
Fact File
Making More Tigers
Tigers will pair up for a few days when the female is in estrus. Her pregnancy takes 3 1/2 to 4 months. She delivers 3 to 5 cubs and moves them from hiding place to hiding place one at a time for the first few months of their lives. This is a dangerous time as she must leave them alone while she hunts. Males do not take part in the rearing of the cubs. Young tigers will not start to hunt for themselves until they are about 2 years old, and will begin to branch off from their mother around this time, slowly developing their own territory which they will mark by clawing trees, spraying urine and leaving strategic droppings. -Tiger Facts
Water World...
Unlike other cats, tigers do not shun water, in fact, they regularly play, lounge and otherwise recreate in the ponds, lakes and rivers of hot Asian jungles, swimming not just to cool off but just for the fun of it.

Popular to a Fault
In a recent poll, the tiger was voted favorite animal in the world, beating out the humble dog by one percentage point. The Siberian tiger and the Bengal tiger with their impressive size, spectacular coloring and breathtaking beauty have captured peoples imaginations for thousands of years. Unfortunately, capturing some of the tigers magic is a human obsession, and potions, remedies and good luck charms made from almost every tiger body part are big business. Tiger blood, crushed bones, and entire paws or skulls are highly prized to this day, and even as every sub-species of tiger is endangered in the wild, illegal poaching still goes on to supply the trade. Fortunately for the survival of the species, many people still like their tigers alive, and while less than 5,000 tigers survive in the wild, there are at least 60,000 in captivity, with over 10,000 kept as personal pets in the United States alone.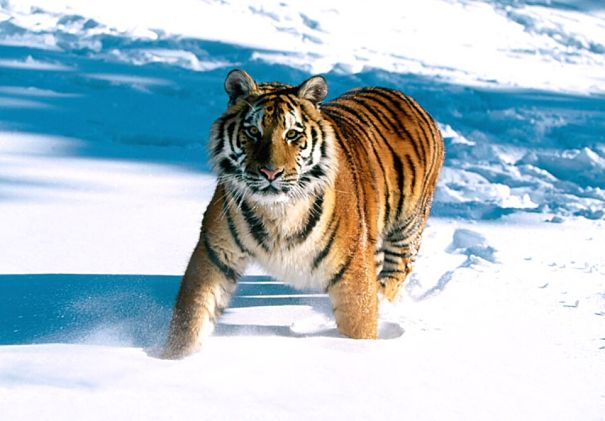 Exceptional Hardware
Tigers have the largest fangs in the animal kingdom, in tiger fact, the longest Siberian tiger teeth on record were over 4 inches. The extinct Saber-tooth tiger had fangs as long as 10 inches, theoretically to pierce the tough hides of wooly mammoth. That's nothing to snarl about!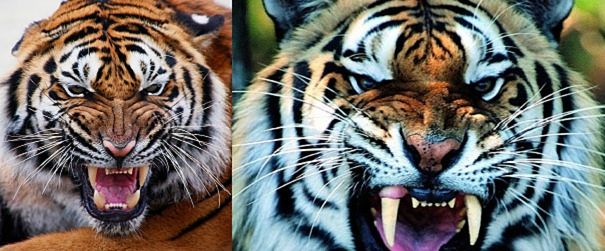 A Few More Tiger Facts:
The Siberianl tiger is also known as the Amur tiger.
The tiger is the largest of the four "Big Cats"
Tigers love water! Playing, swimming and snoozing in it!
The Fascinating Truth: Animal Fun Facts
African elephants regularly make sounds that are too low for humans to hear.....


yet loud enough for elephants miles away to respond to! see more Animal Fun Facts...