Hyena Facts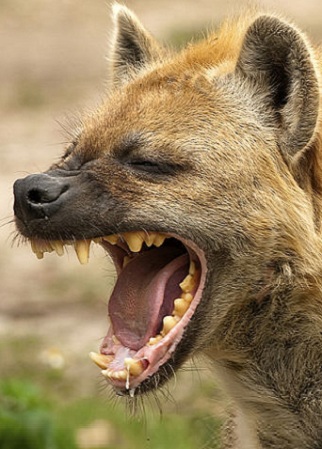 Although they resemble both dogs and cats, the four species of hyenas are in their own seperate and very unique family called Hyaenidae. The most well-known is called the spotted hyena
, also known as the laughing hyena due to the unusual and eerie sounds it makes. After the African lion, the spotted hyena is the largest carnivore in Africa, weighing up to 180 pounds and standing up to 30 inches at the shoulder. These are complicated, intelligent, and highly social animals with a really awful reputation. For centuries hyenas were said to have the souls of the damned trapped inside of them, and when a clan is on the hunt, calling and squealing to one another, it certainly sounds like cackling demons. In addition, female spotted hyenas have unusual genitalia that outwardly resemble that of a male.
This shocks even many modern cultures who fear it as a sign of anarchy or the work of the devil.
And, of course, they have long been considered sneaky scavengers, but they are actually skilled hunters and clans will organize to take down prey as large as zebra. Most clans hunt and kill the majority of what they eat, but, like all the animals of the African plains, they will also steal absolutely anything that isn't nailed down.
-AnimalStats- Hyena Facts
Male
Female
Young
Social Unit
Home
Habitat
called male
called female
cub
clan
Africa, Asia
savanna,sub-desert
Lifespan
FavoriteFood
Enemies
Avg.Height
Avg.Weight
GenderDifference
15-25 years
wildebeast
lions
28 - 34 inches
100 -180 pounds

females larger

Top Speed
Gestation
# of Young
Birth Weight
Raised By
At Birth:
30 MPH
110 days
usually 2
1 pound
mother, clan
furred, eyes open
Leave Den
Weaned
Independent
Males
Females
Endangered?
6 months
1 year
2 years
leave at 2years
Remain with clan
no present risk
Hyena Facts and Hyena Information Featuring the
-
AnimalStats
-
Fact File
Making More Hyenas
When it comes to sex there is no more confusing creature than the spotted hyena. Unusually high testosterone levels in female spotted hyenas create not only larger, stronger and more aggressive girls, but also transform the female sex organs. The clitoris of the female spotted hyena is a tube-like pseudo penis 6 to 7 inches long that looks almost identical to a male penis. Completing the illusion, the labia are fused together in what appears to be a scrotum. These organs make it nearly impossible for even experienced hyena observers to tell the difference, and have caused many to believe that hyenas are clans of devilish hermaphrodites whose cackles mock the norm. But actual intercourse is no laughing matter, it is a delicate and stressful process where a submissive male must somehow arch his way under the female and insert his penis into a dangling tube.The female urinates and gives birth through the urogenital canal which runs down the center of the clitoris. Birth is extremely difficult due to the length of the canal, and death during the first delivery is about 1 in 10. Subsequent deliveries are easier. There are usually two cubs delivered, but fighting between the cubs often occurs, particularly if they are the same sex, and the weaker will often perish in the first weeks. Young males will leave the clan at about 2 years, females will remain for life.
- Hyena Facts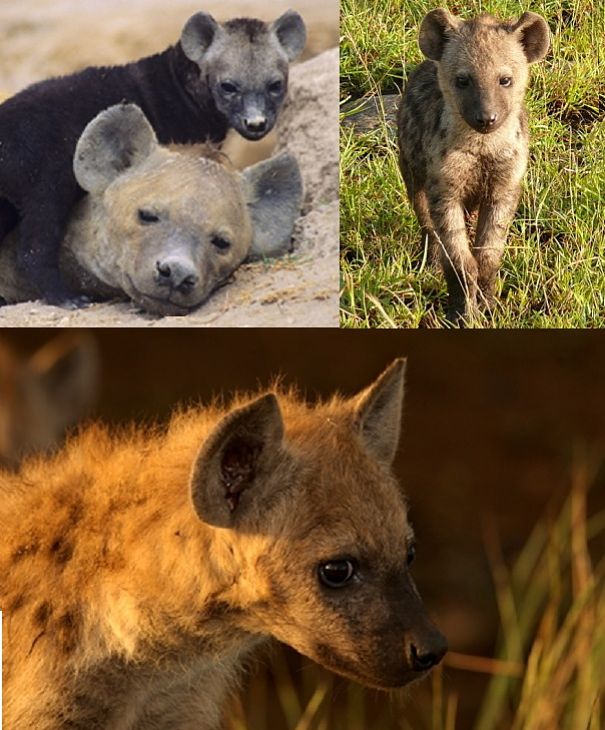 A Womans Perogative....
Because the spotted hyenas unique anatomy requires intense cooperation during intercourse, female hyenas must choose less pushy, more gentlemanly males to engage. These decisions further inforce female dominance in the society by insuring that only the more submissive males get to pass on their "nice guy" genes.


Is The Hyena a Dog or a Cat?
Our tendency when looking at an unusual animal is to try to relate it to something familiar. Hence the common question "is a hyena a dog or a cat? Or maybe a bear?" Fact is, hyenas are hyenas, or more scientificaly, members of the small 4 species family called Hyeanidae. In the carnivore family tree are two main groups, feliformia, or "cat-like" carnivores, and caniformila, or "dog-like" carnivores. The ancestors of the modern hyena were cat-like tree dwellers that spawned not only cats but civets, mongoose and binterong. So hyenas are in the sub-order feliformia, along with all modern felines. But over the course of evolution, hyenas developed many of the behaviors and physical features of the dog species that lived in the same environment . Because those behaviors and physical atributes were effective adaptions to the environment and filled a similiar ecological niche,This is called concurent evolution, and it is why hyenas look and act so much like african wild dogs. even though they do not share the same ancestors. Ultimately, hyenas are hyenas, or more scientifaically four species in the very specialized family hyenadae. They share biological ancesters with cats but developed more like dogs. Aming modern animals, they are most closely related to the civets which are medium sized carnivores that resemble weasels, but also have their own seperate family. - Hyena Facts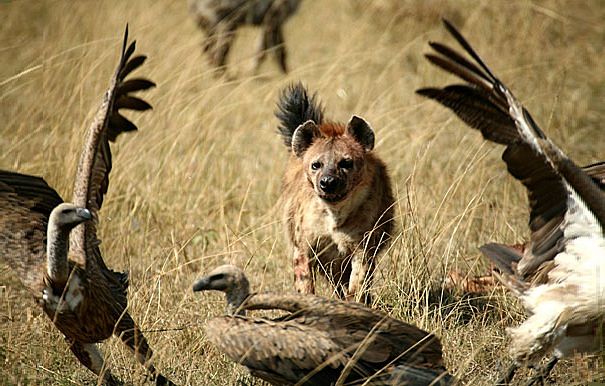 Math and the Next Meal
Just like in any rough neighborhood, the kids on the Savannah find safety in numbers. Five hyenas might steal a fresh kill from a lion, Ten African wild dogs can take a zebra carcas from a hyena, and a big enough gang of vultures will drive just about everyone away from whatever is left. Holding on to a meal on the plains comes down to stealth, intellect, courage, and -most important- your peeps beside you. While lions, hyenas and wild dogs all hunt and kill much of their own prey, stealing is part of the rythym, and plunder keeps you fat, but the vulture does not hunt at all, and is the only true scavanger in this circle of adversaries.

The Common Hyenas Uncommon Cousins
For thoses who might find the common spotted hyenas appearance slightly off-putting we offer the brown hyena, and the amazingly odd, joker-face of the striped hyena. Smaller and far less populous than the spotted hyena, these two species mirror the spotted in lifestyle and fill the same ecological niche.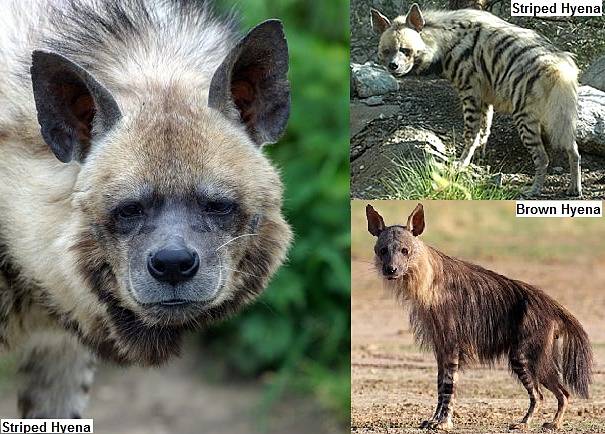 Hyena Haters
Axxxxxxxxxxxxxxxxxxxxxxxxxxxxxxx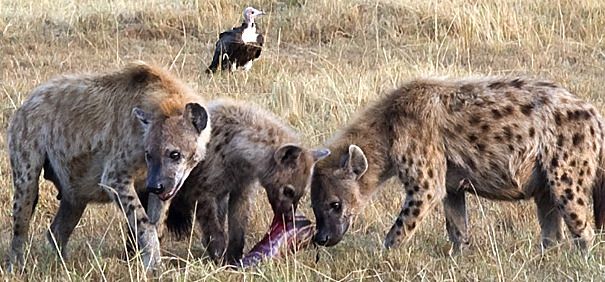 A Few More Hyena Facts:
Hyenas were long believed to be hermaphrodites because the females genitalia look almost exactly like the males. The females pseudo-penis is actually more like a tube, and mating is quite an elaborate and difficult production.
The Fascinating Truth: Animal Fun Facts
African elephants regularly make sounds that are too low for humans to hear.....


yet loud enough for elephants miles away to respond to! see more Animal Fun Facts...